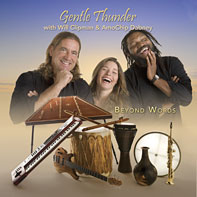 Two exciting upcoming events... you are invited to:

An Intimate house concert with The Seven Twenty Twins Duo- Gentle Thunder and Will Clipman
When: Saturday December 2nd, 2006 at 7:00 pm
Where: San Jose,CA
Snacks and refreshments will be served. This is an open house invitation and friends of friends are very welcome. As a way to respectfully support the work these fabulous artists do in the world, your donations will be greatly appreciated. Suggested donation $20
Please RSVP either by phone or email. We look forward to your joining us on this Enchanting Evening.
Bill and Michelle (Singing Heart)

6363 Almaden Rd.

San Jose, CA 95120
P
hone: 408-997-2479

Email:
michelle AT knowise DOT com


AND Returning to Santa Cruz ...

An Evening Beyond Words with Gentle Thunder, Will Clipman and AmoChip Dabney
When: Sunday Dec. 3, 2006 7:30 pm

Where:
Kuumbwa Jazz Center (
http://www.kuumbwajazz.org
)

320-2 Cedar St., Santa Cruz, CA.

Tickets: $15 adv. / $20 door
Purchase advance tickets online:
http://www.brownpapertickets.com/event/8685
or
Charge by phone - 24/7 Ticket outlet 1-800-838-3006

Curious about the trio? Click the link for a
short video clip
... a glimpse into the live performance.

(video by FireHawk -
resonance.to
)
(
http://ww.1gentlethunder.com/music.html
)

About the artists:
Gentle Thunder

is an internationally acclaimed recording artist, producer and multi-instrumentalist. Known for her distinctive sound and heart filled presence as she plays grand hammer dulcimer, Native American flutes and drums, honoring the circle of life whenever she offers her music. Music from all three of her albums have been heard on the radio, used in documentries, TV and in the
Never Shout at a Bear DVD
.


Will Clipman

known as "the perfect partner" has recorded on over 50 albums and when he is not holding the heartbeat for Gentle Thunder, he performs and records with R. Carlos Nakai Quartet, R. Carlos Nakai Trio, William Eaton, Gary Stroutsos, Arvel Bird and Mary Redhouse just to mention a few. Will is currently working on his solo album, and his Myth's & Masks DVD.
AmoChip Dabney

is composer, producer, multi disciplined performer with versatility and charisma that mesmerizes audiences again and again. Amo divides his time between engineering, recording and performing with various artists: Cyril Neville, Big Chief Monk Bodreaux, Gentle Thunder, Les Baxter, and the R. Carlos Nakai Quartet, to mention a few.