I wanted to wish both Mary Youngblood and Gentle Thunder good luck this weekend at the
Grammy awards
. Mary Youngblood has been nominated for a grammy in the category: "Best Native American Album" for her latest ablum: Dance with the Wind. Gentle Thunder, Will Clipman and Am0Chip Dabney have been nominated for a grammy in the category: "Best New Age Album" for their latest collaboration: Beyond Words.
We're blessed to have such great local talent here in Northern California and it's fun to be able to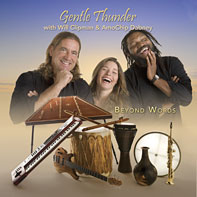 root for both of them to win, since they have been nominated in different categories. I read Mary's response to the MaryYoungblood yahoo group and she sounds really excited about her chances to win. She is taking her whole family down to LA for the event. I really like Dance with Wind, I think that it's one of her best albums, so I think that it has a great chance to win. I know that the whole Loping Wolf clan will be sending all of their positive thoughts to Mary on sunday night and I encourage the rest of the Northern California Flute Circle to do the same.
I was fortunate to met Gentle Thunder and Will Clipman at the INAFA convention this summer. They are both consumate showman and great songwriters. Gentle Thunder lives in Shasta, so we don't see her much, but you can expect that I am going to do everything I can to get her and Will to tour NoCal and play some of their great music for all of you. Will Clipman is also fortunate to have another nomination in the Best Native American Album, with Robert Tree Cody on Heart of the Wind. I love all of Will's work (but I am really pulling for Mary in this one...).