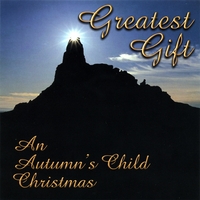 I've spent the morning listening to Mark Hollands' new holiday CD: The Greatest Gift.
WOW! 'Tis the season, and I've had my Christmas music playing on my iPod for the last 3 weeks while I work. I've anxiously awaited the arrival of Marks' new CD as the latest holiday CD in my collection. Mark Holland is an inspired composer and arranger, pushing the pentatonic Native American Flute to new places. It's especially challenging on many of these classic tunes since many of the notes require cross-fingering to get the right note. But Mark does it masterfully.
As for the orchestration and arrangement, I love the variety of instruments and musicians that Mark brings together for this album. Autumns Child has always been a loose collection of musicians built around a semi-perminant core of folks. There are many names on the liner notes for this album as Mark pulled in skilled players of a variety of instruments, including cello, setar, hang, hammered dulcimer, piano, harp, guitar and a variety of percussion.
I'll have copies for sale at the Loping Wolf Winter Gathering on Sunday. Otherwise you can sample the songs and order directly from Mark at his website:
http://www.autumnschild.com/
or from CDBaby:
http://cdbaby.com/cd/autumnschild072